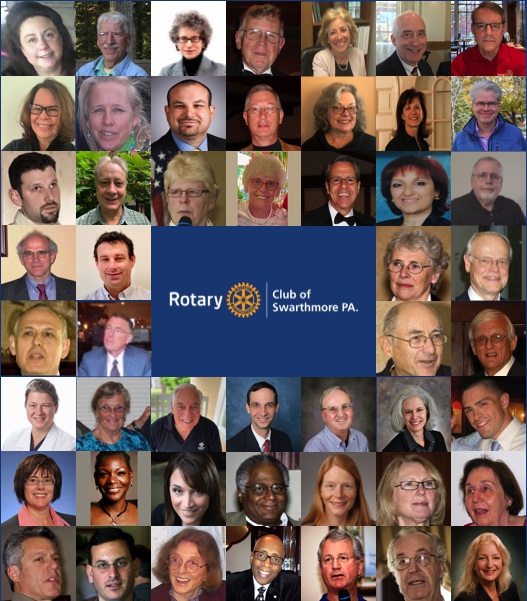 Welcome to the
Rotary Club of Swarthmore PA.
Swarthmore Pennsylvania is located in Delaware County 20 minutes west of Philadelphia. The Rotary Club of Swarthmore was chartered on April 26, 1937 and has been serving the local community and communities around the world for over 75 years.
The Rotary Club of Swarthmore is one of approximately 33,417 Rotary clubs in over 200 countries around the world. We currently have approximately 50 members who live the motto: "Service Above Self".
What do we do?
Our mission is to provide Service to others, promote integrity in our personal and professional lives, and advance understanding, goodwill and peace throughout the world. We do this through our actions and and the causes we support.
Through membership involvement in our Club Committees and initiatives we work to strengthen the fabric of our communities as well as other communities locally and around the World. From promoting literacy through tutoring and donating books, to installing water purification systems in Belize to Solar Panels in Africa to providing much needed supplies to flood victims in Eastern Pennsylvania, we strive to strengthen the fabric of our communities.
Please Join us on Thursdays
We all have our own reasons for joining Rotary and many joined because we recognize that in spite of challenging times, we have much to be thankful for, and this is an opportunity to give back.
If you are interested in joining or even visiting our meeting on Zoom, please feel free to contact us at (484) 326-9958. You are always welcome. Please check the Speakers and Events postings on this page. A few times a year we meet at a different location in the community.
Thank you and welcome!
Service Quotation
People are often unreasonable and self-centered
FORGIVE THEM ANYWAY
If you are kind, people may accuse you of ulterior motives.
BE KIND ANYWAY
If you are honest, people may cheat you.
BE HONEST ANYWAY
If you find happiness, people may be jealous
BE HAPPY ANYWAY
The good you do today may be forgotten tomorrow,
DO GOOD ANYWAY
Give the world the best you have, at it may never be enough.
GIVE YOUR BEST ANYWAY
For you see, in the end, it is between you and God.
IT WAS NEVER BETWEEN YOU AND THEM ANYWAY
Mother Theresa
Speakers & Events
---
Please Note
As we transition to in-person meetings, the first 2 meetings each month will be virtual on Zoom, and the remaining meetings will be in-person at the Inn.
November 24
Thanksgiving – No Meeting
December 1 (In-Person)
Rick Lee,
Head of Swarthmore Volunteer Fire Department

Our goal as a club is to get as many members signed up on Rotary Direct as possible.  Why sign up?
ROTARY DIRECT SAVES…
✔ Time — Sign up once to give continuous support
✔ Money — Lower administration costs means more money for programs
✔ Lives — Give to The Rotary Foundation to do good in the world
EFFICIENT. Contributions go directly to The Rotary Foundation, resulting in faster processing and achievement of your club and personal charitable goals.
CONVENIENT. Minimize work for you and your club's leadership by setting your own schedule of contributions that count toward Paul Harris Fellow, Paul Harris Society, and Major Donor recognition, as well as your club recognition banners.
SECURE. It's the safest and most secure way to contribute to The Rotary Foundation.
If you are already set up in My Rotary, click on the Rotary Direct banner above.
To create an account on "My Rotary", click on the button below.
This will take you to step 3 in the instructions which you can see by clicking here.
Copyright © 2009 - 2022 Rotary Club of Swarthmore, PA