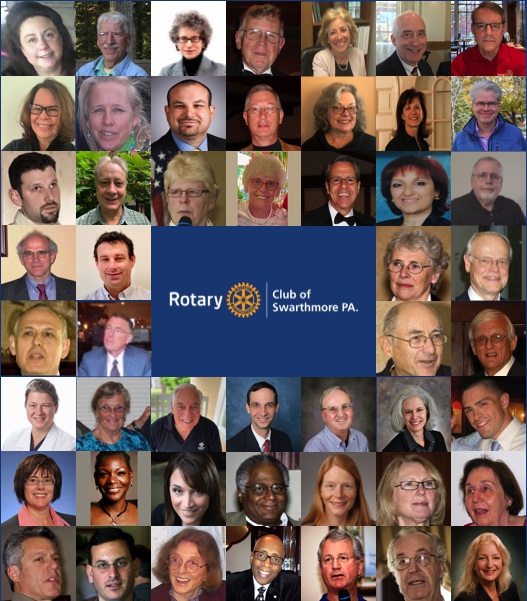 Welcome to the
Rotary Club of Swarthmore PA.
Swarthmore Pennsylvania is located in Delaware County 20 minutes west of Philadelphia. The Rotary Club of Swarthmore was chartered on April 26, 1937 and has been serving the local community and communities around the world for almost 85 years.
The Rotary Club of Swarthmore is one of approximately 33,417 Rotary clubs in over 200 countries around the world. We currently have approximately 50 members who live the motto: "Service Above Self".
What do we do?
Our mission is to provide Service to others, promote integrity in our personal and professional lives, and advance understanding, goodwill and peace throughout the world. We do this through our actions and the causes we support.
Through membership involvement in our Club Committees and initiatives we work to strengthen the fabric of our communities as well as other communities locally and around the World. From promoting literacy through tutoring and donating books, to installing water purification systems in Belize to Solar Panels in Africa to providing much needed supplies to flood victims in Eastern Pennsylvania, we strive to strengthen the fabric of our communities.
Please Join us on Thursdays
We all have our own reasons for joining Rotary and many joined because we recognize that in spite of challenging times, we have much to be thankful for, and this is an opportunity to give back.
If you are interested in joining or even visiting our meeting on Zoom, please feel free to contact us at (484) 326-9958. You are always welcome. Please check the Speakers and Events postings on this page. A few times a year we meet at a different location in the community.
Thank you and welcome!
Service Quotation
Is anybody happier because you passed his way?
Does anyone remember that you spoke to him today?
This day is almost over, and its toiling time is through;
Is there anyone to utter now a kindly word of you?
Did you give a cheerful greeting to the friend who came along?
Or a churlish sort of "Howdy" and then vanish in the throng?
Were you selfish pure and simple as you rushed along the way,
Or is someone mighty grateful for a deed you did today?
Can you say tonight, in parting with the day that's slipping fast,
That you helped a single brother of the many that you passed?
Is a single heart rejoicing over what you did or said;
Does a man whose hopes were fading now with courage look ahead?
Edgar Guest
Speakers & Events
---
Please Note
February 2 (In-Person)
Dorothy Gelb, Jim Snively and Andrew Bunting
Classification Talks
February 9 (In-Person)
Dr. Mark Hopkins, Director, Moody's Analytics
The Post Pandemic Economy
February 14 – Service Project
Loaves & Fishes Food Pantry of Prospect Hill Baptist Church
February 16 (In-Person)
Dr. Joyce Shin, Pastor, Swarthmore Presbyterian Church
What I Have Learned about the Church in Community

Our goal as a club is to get as many members signed up on Rotary Direct as possible.  Why sign up?
ROTARY DIRECT SAVES…
✔ Time — Sign up once to give continuous support
✔ Money — Lower administration costs means more money for programs
✔ Lives — Give to The Rotary Foundation to do good in the world
EFFICIENT. Contributions go directly to The Rotary Foundation, resulting in faster processing and achievement of your club and personal charitable goals.
CONVENIENT. Minimize work for you and your club's leadership by setting your own schedule of contributions that count toward Paul Harris Fellow, Paul Harris Society, and Major Donor recognition, as well as your club recognition banners.
SECURE. It's the safest and most secure way to contribute to The Rotary Foundation.
If you are already set up in My Rotary, click on the Rotary Direct banner above.
To create an account on "My Rotary", click on the button below.
This will take you to step 3 in the instructions which you can see by clicking here.
Copyright © 2009 - 2023 Rotary Club of Swarthmore, PA